Rubriken:
weitere Rubriken
BAYERISCHER-WALD-NEWS ist in GoogleNews gelistet:
Täglich über 1.000 Besucher!
Über 1.000 Besucher suchen täglich nach Neuigkeiten und Informationen in unsem Presseportal
Urlaub im Bayerischen Wald: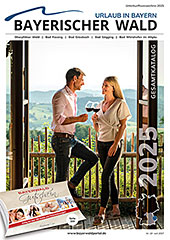 Login für Autoren
RSS-Feed abonnieren
Nutzungsrechte
Für die Pressemitteilungen sind allein die jeweils angegebene Herausgeber verantwortlich i.S.d.P. Dies gilt für Inhalt und verwendete Fotos. "Tourismus-Marketing Bayerischer Wald / Putzwerbung" übernimmt keine Haftung für die Korrektheit oder Vollständigkeit der dargestellten Meldungen. 
Die Nutzung von hier archivierten Informationen zur Eigeninformation und redaktionellen Weiterverarbeitung ist in der Regel kostenfrei. Eine Nutzung der Inhalte in Internetseiten ist ausschließlich bei Nennung und Verlinkung von www.bayerischer-wald-news.de gestattet. Bei Verwendung der Pressetexte oder Bilder OHNE Link berechnen wir eine Kostenpauschale von 1.000 EUR zzgl. gesetzl. MwSt je Pressemeldung. Bei Veröffentlichung senden Sie bitte ein Belegexemplar an info@putzwerbung.de
Eine systematische Speicherung dieser Daten sowie die Verwendung auch von Teilen dieses Datenbankwerks sind nur mit schriftlicher Genehmigung durch die Firma PUTZWERBUNG gestattet.
Activity and wellness in the Dolomites - The ski Dolomites
Erschienen am 26.10.2018 um 14:02 Uhr
Beautiful landscape and luxury products - wellnesshotel in South Tyrol
Lean back and take a deep breath, now it is time to relax and to forget all stress. At the Belvita spa hotels, spa- and beauty treatments are administered by qualified staff using quality products made from local medicinal herbs and oils. Take a break in your holiday and refresh soul and body in the wellness areas. In the different Spa's we offer a lot of things which are good for recovering new energy for your daily life. Tune out and relax in our swimming and wellness areas with sauna or in the steam bath. Customers can also choose between different beauty treatments. We guarantee highest quality and a beautiful environment. This ensures an enjoyable and lovely holiday for our guests of all ages. Visit our website to choose a perfect holiday.

Be comfortable on your holidays– South Tyrol luxury hotels

Enjoy your vacations in a stylish and cordial atmosphere, in the convivial region of South Tyrol. The choice of spa hotels in Italy is huge of course, but if you are looking for an excellent location, best service and top quality at all levels, the Belvita spa hotels are your best choice. Belvita hotels are the leading wellness hotels in South Tyrol. Belvita stands for luxurious wellness and premium quality. Customers have the choice of different 4 stars superior and 5 stars' hotels. All hotels guarantee certified quality and premium service in a beautiful environment. Wonderful destinations combined with high standard accommodations ensure memorable holidays. Enjoy your stay in one of the best wellness hotels in South Tyrol.

A Wellnesshotel with great meals

After an active day in nature or a relaxing stay in the spa area you will have appetite for delicious and healthy food. Every day, the Belvita chefs and kitchen staff will surprise guests with their creative masterpieces. Fresh, local and seasonal quality products are selected for perfect meals. Healthy compositions of selected ingredients can be enjoyed during the holiday in our Belvita Leading Wellnesshotels South Tyrol. Love at first bite is what customers can feel in our restaurants. A well-chosen wine complements a wonderful dinner. We look forward to your visit in one of our hotels.


Further information, news and offers can be found at: https://www.belvita.it/wellness-hotel.



Impressum
Belvita Alpenwellness Genossenschaft

Via Julius Durst/Julius Durst Straße 44

I-39042 Bressanone/Brixen (South Tyrol)

Italy

T +39 0473 499 499

F +39 0473 499 498

wellnesshotels@belvita.it



nora.leisig@web.de