Rubriken:
weitere Rubriken
BAYERISCHER-WALD-NEWS ist in GoogleNews gelistet:
Täglich über 1.000 Besucher!
Über 1.000 Besucher suchen täglich nach Neuigkeiten und Informationen in unsem Presseportal
Urlaub im Bayerischen Wald: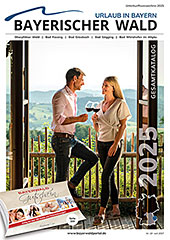 Login für Autoren
RSS-Feed abonnieren
Nutzungsrechte
Für die Pressemitteilungen sind allein die jeweils angegebene Herausgeber verantwortlich i.S.d.P. Dies gilt für Inhalt und verwendete Fotos. "Tourismus-Marketing Bayerischer Wald / Putzwerbung" übernimmt keine Haftung für die Korrektheit oder Vollständigkeit der dargestellten Meldungen. 
Die Nutzung von hier archivierten Informationen zur Eigeninformation und redaktionellen Weiterverarbeitung ist in der Regel kostenfrei. Eine Nutzung der Inhalte in Internetseiten ist ausschließlich bei Nennung und Verlinkung von www.bayerischer-wald-news.de gestattet. Bei Verwendung der Pressetexte oder Bilder OHNE Link berechnen wir eine Kostenpauschale von 1.000 EUR zzgl. gesetzl. MwSt je Pressemeldung. Bei Veröffentlichung senden Sie bitte ein Belegexemplar an info@putzwerbung.de
Eine systematische Speicherung dieser Daten sowie die Verwendung auch von Teilen dieses Datenbankwerks sind nur mit schriftlicher Genehmigung durch die Firma PUTZWERBUNG gestattet.
Enjoy a recreative time – hotel in St. Leonhard
Erschienen am 22.04.2018 um 18:10 Uhr
Wonderful nature at its best – hotel in Val Passiria
The sun is shining, the birds are singing and in front of you: the impression landscape of South Tyrol, this is what freedom feels like. The region Val Passiria is ideal for vacations in the summer as well in the winter. The mountains and nature around the hotel in St. Leonard offers a great range of different possibilities to engage physically and culturally during your vacation. Now in winter, the snowy landscapes invite you to enjoy a long walk in nature and to benefit from the fresh and clear mountain air. More than that, the hotel offers a different range of activities for every day. While you might like visiting a museum one day, you can enjoy an intensive fitness work-out on other days.
Quality time – St. Leonhard hotel
You just have to say, what is on your mind, the service in the hotel is very cordial. In the hotel Stroblhof every holidaymaker will get all their wishes satisfied. The rooms and suites in the hotel in St. Leonard are designed to accommodate every guest well while enjoying their holiday. More so, the rooms are spacious and comfortable and make sure that you feel like home at all times. Romantic nights are guaranteed in these rooms and suites by offering luxury furniture and atmosphere. If you travel with your family or partner, you can also book one of the many apartments, which are equipped with an extra kitchen and bathroom.
Culinary delights – Val passiria hotel
Lean back and enjoy the bright side of life. Every tourist will be spoiled in the hotel Stroblhof. Love for good food is what makes eating in the val passiria hotel so delicious and an event every day. Start your day right with a grant breakfast with freshly baked bread, homemade jams, delicious juices, freshly brewed coffee and a lot more to discover. Every afternoon guests can enjoy a large selection of cakes, soups, ice-cream and of course coffee and fresh tea. End your day delicious with a 5-course-menu with Mediterranean and regional specialities.

You can find more information here: https://www.stroblhof.com/en.

Impressum
Nora Leisig
Holzweg 65
89129 München



nora.leisig@web.de