Rubriken:
weitere Rubriken
BAYERISCHER-WALD-NEWS ist in GoogleNews gelistet:
Täglich über 1.000 Besucher!
Über 1.000 Besucher suchen täglich nach Neuigkeiten und Informationen in unsem Presseportal
Urlaub im Bayerischen Wald: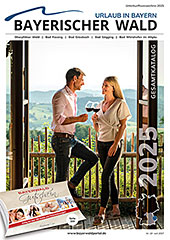 Login für Autoren
RSS-Feed abonnieren
Nutzungsrechte
Für die Pressemitteilungen sind allein die jeweils angegebene Herausgeber verantwortlich i.S.d.P. Dies gilt für Inhalt und verwendete Fotos. "Tourismus-Marketing Bayerischer Wald / Putzwerbung" übernimmt keine Haftung für die Korrektheit oder Vollständigkeit der dargestellten Meldungen. 
Die Nutzung von hier archivierten Informationen zur Eigeninformation und redaktionellen Weiterverarbeitung ist in der Regel kostenfrei. Eine Nutzung der Inhalte in Internetseiten ist ausschließlich bei Nennung und Verlinkung von www.bayerischer-wald-news.de gestattet. Bei Verwendung der Pressetexte oder Bilder OHNE Link berechnen wir eine Kostenpauschale von 1.000 EUR zzgl. gesetzl. MwSt je Pressemeldung. Bei Veröffentlichung senden Sie bitte ein Belegexemplar an info@putzwerbung.de
Eine systematische Speicherung dieser Daten sowie die Verwendung auch von Teilen dieses Datenbankwerks sind nur mit schriftlicher Genehmigung durch die Firma PUTZWERBUNG gestattet.
Time for an exclusive vacation – Italian Alps hotels
Erschienen am 21.03.2018 um 13:18 Uhr
Relax and enjoy nature - hotels Dolomites
An impressive mountain landscape, green fields and blue lakes create an idyllic atmosphere for you. The three Winklerhotels, named Hotel Winkler, Hotel Lanerhof and Hotel Sonnenhof, are perfectly located for activities in the nature. Guests for example can go skiing, trekking, hiking or riding a bike at the Plan de Corones between the Dolomites and the Alps. A weekly program based on the season will be offered to the guests. As you will see, there is no doubt to not having an incomparable and unforgettable stay in the Winklerhotels in South Tyrol.
Wellness in luxury hotels in the Alps
Take it easy, it's time to relax and forget all stress. It's time for wellness. All three hotels offer a Premium Spa where not only rest-seekers get their money's worth. Active guests and families can also relax after an exciting day full of adventures. What guests highly appreciate is the most diverse spa world in Val Pusteria. The three spa areas in the Winklerhotels can be used by all guests. Spend the night in one of them and make use of spa services in another. In total there are 15 pools, 21 saunas, 80 treatments and 12 relaxation zones waiting for guests to enjoy.
Luxury holiday – Dolomites hotels
Enjoy an exquisite service and a breathtaking landscape in South Tyrol. The Winklerhotels are located in Val Pusteria, South Tyrol, and are led by the Winkler family. Their three hotels are premium spa resorts and offer an exclusive stay for active guests, families and rest-seekers. As the hosts are focusing on premium quality and exclusivity for many years, there is a tailored, guest-centered service. As guest of one of the luxury Winklerhotels you can enjoy all services and amenities that are offered by all hotels of the Winkler family (except Chalet). That includes the largest spa complex in Val Pusteria, the superior gourmet cuisine and sports activities – all at no extra charge!

Further information you can find on: https://www.winklerhotels.com/en.



Impressum
Nora Leisig
Holzweg 65
89129 München



nora.leisig@web.de